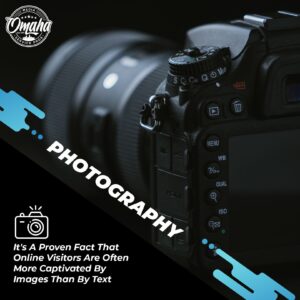 In today's digital world, visuals are key in shaping the perception and image of your business. High-quality professional photography plays a crucial role in this respect, which is exactly what Omaha Media Service Pros offer! From product photography to team portraits, or capturing the unique aspects of your business operations, we have got you covered.
Our team of skilled professionals seamlessly blends technical expertise with an artistic touch to craft visuals that leave a lasting impact. The power of our photography services extends beyond just delivering beautiful photos. We aim to help tell your business story, provide a glimpse into your product offerings, and build a professional identity for your brand.
When you choose to invest in your brand's visual identity, you're showing your audience the quality and dedication that goes into your work. It's more than just a photo—it's a reflection of your business's core values and commitment to excellence.
Consider Omaha Media Service Pros as your partner in this journey. Reach out to us today to discuss how our photography services can play a pivotal role in your business growth. Remember, in an era dominated by visuals, a picture isn't just worth a thousand words, but also the key to a thousand possibilities. Amplify your brand's reach with Omaha Media Service Pros—your trusted partner for professional B2B photography services.
Don't wait! Give your business the boost it deserves. #OmahaMediaServicePros #B2BPhotography.